Dedicated to a better America
For two decades William Hurd has been involved in the most pressing national security issues challenging the country, whether in the back-alleys of dangerous places, boardrooms of top international businesses, or the halls of Congress.
Over two decades of service to our nation
FORMER MEMBER OF CONGRESS
CYBERSECURITY EXECUTIVE
UNDERCOVER OFFICER IN THE CIA
Protecting Our Nation
After stopping terrorists, preventing Russian spies from stealing our secrets, and putting nuclear weapons proliferators out of business, Will helped build a cybersecurity company that prepared businesses for the next domain of conflict – cyberspace.
Good Policy over Good Politics
While in Congress, Texas Monthly and Politico Magazine called Will "The Future of the GOP," because he put good policy over good politics at a time when America was often consumed with what divides us rather than what unites us.
He got more legislation signed into law in three terms than most congressmen do in three decades – substantive legislation like a national strategy for Artificial Intelligence – all while maintaining his reputation as "the most interesting man in Congress."
Continuing his work
Will is a native of San Antonio and earned a Computer Science degree from Texas A&M University.
Additionally, he has been on the boards of some of the world's most prominent organizations addressing the future of Artificial Intelligence, and most recently served as a fellow at the University of Chicago Institute of Politics.
Providing For Family
Will Hurd and his wife Lynlie Wallace first met in 2009, when she taught him everything he now knows about politics.
They decided to tie the knot on New Year's Eve in 2022.
Lynlie is a legislative and regulatory counsel at a premier public affairs firm.
Being open to discussion and compromise
when it comes to our disagreements
weakness or betrayal, it's a mature display of
the values America is based on.
Will Hurd, Republican presidential candidate
Will Hurd Speaks
Nuclear Energy
Collaboration with Kim Jong Un
Trump and Biden embolden nuclear terrorism
Border Crisis
Border nuances must be respected
Global cooperation for our border crisis
Education Inequality
I'm supportive of school choice
The amount of federal dollars that go to school is important
Technology
Future Challenges
65% of Americans think AI will take their job
Aug 19, 1977 – Texas, Born and Raised
William Hurd is born in San Antonio, TX to Bob and Mary Alice Hurd.
May, 1995 – Taking the Next Step
Will graduates from John Marshall High School in San Antonio, TX and gets ready to head to Texas A&M University the next fall.
November 18, 1999 – Leadership in Difficult Times
While serving as Student Body President of Texas A&M University, Will Hurd leads the Aggie community through one of its most difficult times when the Aggie Bonfire collapsed in the early morning hours taking the lives of 12 former students.
May 16, 2000 – From Computer Science to the CIA
Will graduates from Texas A&M University with a B.S. in computer science. His first job is already lined up. He will begin his career as an undercover CIA officer in the fall.
October 12, 2000 – His First Assignment
On his way to Washington, D.C. from San Antonio the USS Cole is attacked by Al-Qaeda suicide bombers in the Gulf of Aden. The attack kills 17 crew members and injures 39. This will become Will's first assignment in the CIA.
September 11, 2001 – 9/11
William Hurd is training in Washington, D.C. on the morning of September 11th, when terrorists crash planes into the World Trade Center and the Pentagon. The city is locked down, but Will hikes about 15 miles by foot in order to report to Langley and begin the next mission – The War on Terror.
September 12, 2001 – Front Lines of the War on Terror
Will spends the next 8 years in the CIA on the front lines of The War on Terror in D.C., India, Pakistan, New York, and Afghanistan.
July 1, 2010 – Striking Out on His Own
After nearly a decade in service, Will Hurd joins an old colleague from the CIA as a partner at his strategic advisory firm, Crumpton Group. They help businesses grow into markets they had never been in before. Will also helps build the cybersecurity firm, FusionX, which helps businesses defend against cyber attacks.
June 3, 2014 – The First Victory
Feeling the call for public service, Will runs for Congress in the 23rd Congressional District of Texas and defeats a former Congressman in the Republican Primary.
November 4, 2014 – A Seat at the Table
Will defeats incumbent Congressman Pete Gallego in the General Election by just over 2,500 votes. Immediately following his election he does a tour of all 29 counties to get his marching orders before he is sworn in to Congress.
January 6, 2014 – The Work Begins
Will is sworn in as the Representative from the 23rd Congressional District of Texas.
November 8, 2016 – Must Be Doing Something Right
Will is re-elected to Congress in a district that Hillary Clinton won by more than three percentage points.
November 6, 2018 – Three Terms in Congress
Will Hurd is re-elected again by a margin of 926 votes in one of the most competitive and expensive house races in Texas history in a district Ted Cruz lost to his Democratic opponent by five percentage points.
June 2019 – Finding His Park
In recognition of his longtime service and admiration for our nation's parks Will Hurd is selected as co-Chairman of the bipartisan National Parks Caucus and learns the answer to the question how many national parks are there?
August 1, 2019 – A New Chapter Begins
After running and winning three consecutive times in one of the most competitive congressional districts in the country, Will Hurd announces he will not seek re-election, and would instead devote his time to ensuring America is ready for a New Cold War with China.
November 14, 2019 – Dawn of a Movement
Future Leaders Fund is formed with Will's support and the mission of helping build a more diverse Republican Party that looks like America.
January 27, 2021 – These Boots Were Made for Writing
Book Publisher Simon & Shuster announces that they will be publishing Will's book which will share stories from growing up in an interracial family in Texas, serving his country in the back alleys of dangerous places, and serving in the halls of Congress.
March 1, 2021 – Technology + National Security + Public Policy
As a managing director at Allen & Company, board member of OpenAI and Trustee for the German Marshall Fund Will is helping bridge the gap between the public and private sectors
March 29, 2022 – Rebooting the Conversation
AMERICAN REBOOT is released to robust sales and nearly universal praise from both critics and consumers.
December 31, 2022 – Tying the Knot
Will Hurd and his wife Lynlie Wallace first met in 2009, when she taught him everything he now knows about politics. They decided to tie the knot on New Year's Eve in 2022. Lynlie is a legislative and regulatory counsel at a premier public affairs firm.
America has become an

exceptional nation

not because of what we have taken but because of

what we have given.
WILL HURD, Republican presidential candidate
About Will
Will Hurd has spent the past 20 years on the front lines of the most pressing fights facing our nation, in the Middle East, Congress, and the highest levels of business and tech.
Will has spent his life fighting for our country, and he will take those decades of experience with him as he fights for all us.
Don't be a jerk, racist, misogynist or homophobe.
WILL HURD, Republican presidential candidate
The choice we face
In this election, we have a choice. We can continue down the path of divisive politics and short-term thinking, or we can choose a new direction.
We can choose a future that is grounded in common sense, that prioritizes the needs of the American people, and that builds on our strengths as a nation.
Together, we can make this vision a reality.
Together, we can create an America that thrives on innovation, that provides opportunities for all, and that leads the world not just in power, but in principle.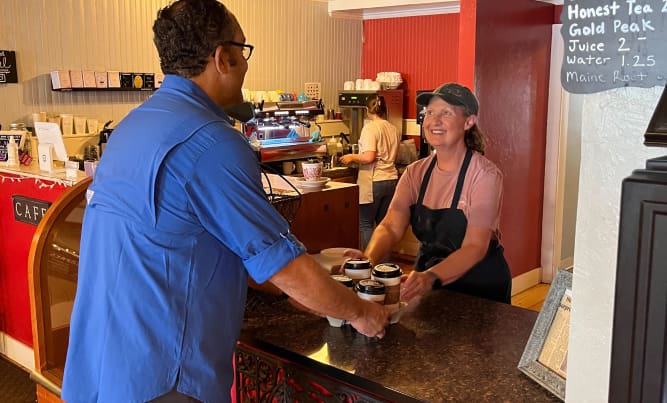 91%
Believe it's important to protect free speech
86%
Believe college education is important for success
79%
Support the development of alternative energy sources
86%
Believe it is essential to maintain Social Security
89%
Support background checks for all gun buyers
71%
Believe that LGBTQ+ individuals should have equal rights
82%
Say it is important for the country to do more regarding race inequality
72%
Are unhappy with the current US economy
70%
Believe the federal government doesn't share enough information
94%
Are concerned about pollution of drinking water
71%
Believe the nation's infrastructure is in need of major repairs
85%
Believe that access to affordable housing is a problem
Politico Magazine
The future of the GOP
Daily Dot
The most interesting man in Congress
Allegheny College
Prize for Civility in Public Life
Russia
Sanctioned by Vladimir Putin
Because in America, we're better together
Common Sense for Complicated Times
It's time to elect a President that isn't afraid of talking to people they don't agree with. Your generous contribution today will help me amplify that message to all voters. Not just the extremes.
CHOOSE $1 Or Multiple Amounts
Merchandise
T-shirts, hats, coffee mugs to support Will Hurd's campaign. Join us because we are better together
Shop Now
What's a modern republican look like?
We're a nation full of people with these values. If this describes you, you might be a modern Republican.
Respectful and Polite
Strong old school manners. You respect others, and say "please" and "thank you"
Fair
You give someone a fair shot
Empathic
You're ready to put yourself in the shoes of someone else.
Informed
No matter street smarts or book smarts, you understand an education is important
Family Values
You put your family above everything and do everything you can to succeed
Responsible
You take responsibility for your actions and believe in personal responsibility
Kind
You help others and you're always quick to smile
Persevering
You don't let a little hardship get in your way
Compassionate
You know that we're better together and you are ready to help
Policy
Will got more legislation signed into law in three terms than most congressmen do in their entire career. He worked across the aisle, and prioritized good policy over politics.