Healthcare is an issue that affects every American
By adopting the principles of competition and price transparency, we can take significant steps toward reducing the cost of healthcare.
We need to prioritize health
Healthcare is a fundamental concern that affects each and every American, regardless of their political affiliation. It is a matter that should bring us together, rather than tear us apart.
When we look at the facts, it becomes evident that our healthcare system is in dire need of reform. The United States spends a staggering amount on healthcare, nearly double what other affluent nations spend. Yet, despite this exorbitant expenditure, we lag behind in terms of life expectancy.
This begs the question: where is all this money going?
It's time to come together and build a healthcare system that truly serves the needs of all Americans.
Will Hurd
Despite the significant cost, our healthcare falls short.
We must ask ourselves why our healthcare system fails to deliver the results we deserve.
It is a sad reality that many Americans face difficult choices when it comes to their healthcare. Medical bills can cripple families, and people often find themselves trapped in a cycle of debt due to exorbitant healthcare costs.
The lack of accessible and affordable healthcare not only affects the physical well-being of our citizens but also hurts our economy and stifles innovation.
U.S. per capita healthcare spending is over twice the average of other wealthy countries
$4.3T
Healthcare spending in the U.S in 2021
$12,914
Spent per person on healthcare in 2022
3.2M
Americans died during January–December 2022
Hurd tells Forbes that he would not have signed the RNC's pledge to support any Republican nominee "as is".
Discussing the issues being ignored while we debate the indictment on CNN This Morning
Discussing the case against Donald Trump with Jake Tapper.
How do we bring down the cost of healthcare?
Bringing down the cost of healthcare is a challenge we face today.
And how do we get the price of anything down — competition.
And this principle can be applied to healthcare as well.
For true competition to thrive, we need something crucial: price transparency. Just like when you're shopping for a TV, it's important to know the price upfront. The same goes for medical procedures.
We should be aware of the costs before we make our decision.
The way the system is structured now, it is a cure-driven system, not a prevention-driven system.
Yaseen Hayajneh, associate professor of health administration
Percent of total population with health insurance coverage
Source: OECD Health Statistics 2022
We need to know how much a medical procedure is going to cost before we agree on it
Price transparency empowers individuals. It allows them to be proactive consumers of healthcare, just like when they're shopping for other goods and services. It enables us to seek the best value for their hard-earned money, ensuring that they receive the quality care they deserve at a fair price.
You can compare the costs of different providers, evaluate the quality of services offered, and make an informed decision based on your needs and budget.
By promoting price transparency, we create an environment where healthcare providers are encouraged to compete on both quality and cost. This competition drives innovation, efficiency, and improved outcomes for patients. It's common sense.
The preservation of health is a duty.
Thomas Jefferson
Will Hurd Speaks
Education Inequality
I'm supportive of school choice
The amount of federal dollars that go to school is important
Protecting Democracy
We take democracy for granted
We need everyone to show up and vote
Russia
Pushing Russia Out
We're not doing enough we must move faster
Election
I'm not afraid of Trump
Donald Trump is in the pole position of the election
America has become an

exceptional nation

not because of what we have taken but because of

what we have given.
WILL HURD, Republican presidential candidate
About Will
Will Hurd has spent the past 20 years on the front lines of the most pressing fights facing our nation, in the Middle East, Congress, and the highest levels of business and tech.
Will has spent his life fighting for our country, and he will take those decades of experience with him as he fights for all us.
Don't be a jerk, racist, misogynist or homophobe.
WILL HURD, Republican presidential candidate
The choice we face
In this election, we have a choice. We can continue down the path of divisive politics and short-term thinking, or we can choose a new direction.
We can choose a future that is grounded in common sense, that prioritizes the needs of the American people, and that builds on our strengths as a nation.
Together, we can make this vision a reality.
Together, we can create an America that thrives on innovation, that provides opportunities for all, and that leads the world not just in power, but in principle.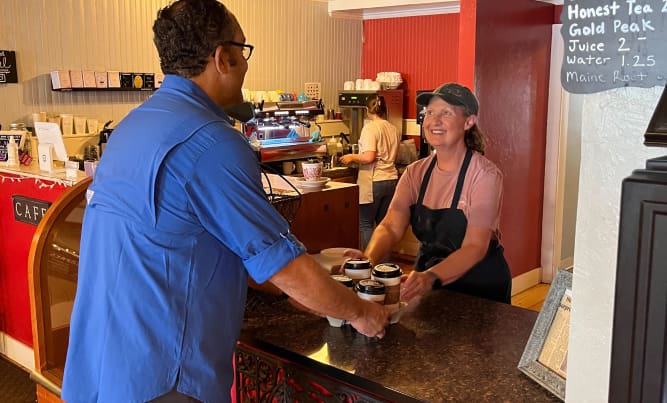 91%
Believe it's important to protect free speech
86%
Believe college education is important for success
79%
Support the development of alternative energy sources
86%
Believe it is essential to maintain Social Security
89%
Support background checks for all gun buyers
71%
Believe that LGBTQ+ individuals should have equal rights
82%
Say it is important for the country to do more regarding race inequality
72%
Are unhappy with the current US economy
70%
Believe the federal government doesn't share enough information
94%
Are concerned about pollution of drinking water
71%
Believe the nation's infrastructure is in need of major repairs
85%
Believe that access to affordable housing is a problem
Politico Magazine
The future of the GOP
Daily Dot
The most interesting man in Congress
Allegheny College
Prize for Civility in Public Life
Russia
Sanctioned by Vladimir Putin
Because in America, we're better together
Common Sense for Complicated Times
It's time to elect a President that isn't afraid of talking to people they don't agree with. Your generous contribution today will help me amplify that message to all voters. Not just the extremes.
CHOOSE $1 Or Multiple Amounts
Merchandise
T-shirts, hats, coffee mugs to support Will Hurd's campaign. Join us because we are better together
Shop Now
What's a modern republican look like?
We're a nation full of people with these values. If this describes you, you might be a modern Republican.
Respectful and Polite
Strong old school manners. You respect others, and say "please" and "thank you"
Fair
You give someone a fair shot
Empathic
You're ready to put yourself in the shoes of someone else.
Informed
No matter street smarts or book smarts, you understand an education is important
Family Values
You put your family above everything and do everything you can to succeed
Responsible
You take responsibility for your actions and believe in personal responsibility
Kind
You help others and you're always quick to smile
Persevering
You don't let a little hardship get in your way
Compassionate
You know that we're better together and you are ready to help
Policy
Will got more legislation signed into law in three terms than most congressmen do in their entire career. He worked across the aisle, and prioritized good policy over politics.