Nuclear Power Must Be Part of the American Energy Solution
69% of Americans agree that the US has to become carbon neutral by 2050.
60%
Republicans who already support nuclear energy
772B
kWh of electricity were produced by nuclear power plants in 2022
28
U.S. states already using nuclear power
Americans' support for nuclear energy is at its highest point in a decade
In America, almost one-fifth of the nation's electricity comes from nuclear power plants annually. Just in 2022, these plants generated 772 billion kilowatt hours of electricity.
That's enough to fuel over 72 million homes.
Since the 1990s, our nation's reactors have been unwavering, supplying roughly 20% of our power and reigning as the world's largest producer of nuclear energy.
Nuclear energy serves as the backbone of our clean energy landscape. It contributes to nearly half of America's carbon-free electricity — an impressive 47% in 2022. No other source can match its role in our sustainability efforts.
When our nuclear power plants produce electricity, they emit zero greenhouse gasses.
Instead, they harness the power of boiling water, creating steam that drives a turbine. This process, known as fission, takes place within the reactor's core, where uranium atoms split, releasing heat.
All the waste in a year from a nuclear power plant can be stored under a desk.
Ronald Reagan
Nuclear energy stands as one of the most reliable sources of power in America. In 2022, our nuclear power plants operated at full capacity for over 92% of the time. This remarkable feat makes it the most dependable energy source in our land, surpassing the likes of natural gas, coal, wind, and solar.
While these sources falter, nuclear stands tall, designed to run day and night with minimal maintenance and refueling needed. Currently, there are 92 commercial reactors scattered across our nation.
Already illuminating the lives of Americans in 28 states. 
They stand alongside South Carolina and New Hampshire, where more than 50% of their power flows from nuclear energy.
Nuclear energy, a powerful ally in our quest for clean and reliable electricity, stands as a testament to our commitment to a sustainable future.
Together, let us harness its might and carry forth the light for generations to come.
Will Hurd Speaks
Technology
Artificial Intelligence
Control infrastructure, control all
Nuclear Energy
America needs changes
Biden's position on North Korea is incorrect
National Poll
Time to look forward
We need people who are not afraid of Donald Trump
Education Inequality
I'm supportive of school choice
The amount of federal dollars that go to school is important
I would like nuclear fusion to become a practical power source.
It would provide an inexhaustible supply of energy, without pollution or global warming.
Stephen Hawking, An English theoretical physicist, cosmologist
nuclear power releases less radiation into the environment than any other major energy source
The waste stemming from coal plants carries a higher radioactivity level than the waste produced by nuclear power plants.
This revelation sheds light on an important aspect often overlooked. When coal is burned to generate electricity, a by-product called fly ash is released into the air.
Astonishingly, this fly ash from the coal mines carries a staggering 100 times more radiation compared to an equivalent amount of energy generated by a nuclear power plant.
Ravenswood Generating Station, New York
Source: Freepik
10%
Of the world's electricity is generated by nuclear energy
#1
America's current rank in nuclear power production
69%
Americans who favor the US taking steps to become carbon neutral by 2050
Nuclear power provides 47% of America's clean energy
Nuclear power plays a vital role in America's clean energy landscape. Its reliability is unmatched, with nuclear power plants operating at over 92% capacity, ensuring a steady supply of electricity.
Small modular reactors represent a promising new generation of advanced nuclear technologies.
These reactors are smaller, more affordable, and offer greater operational flexibility compared to traditional large-scale nuclear power plants. Investing in these advancements is crucial for the reinvigoration of American energy dominance in the future.
By recognizing the benefits of nuclear power, we can ensure a reliable and environmentally friendly energy supply while promoting technological progress that will shape a brighter energy future for our nation.
Discussing the debt ceiling fight and the long-term ramifications on "CUOMO"
Discussing Immigration and the Border Crisis on CNN "This Morning"
Discussing the importance of artificial intelligence and how it will shape our future with the Texas and Southwestern Cattle Raisers Association
China is set to overtake the US as the biggest nuclear generator by the early 2030s
China's ascent as the world's largest nuclear power producer, projected to surpass the United States by the early 2030s, raises concerns about American leadership. The potential loss of our top position is unsettling.
It is a matter of strategic importance that we strive to maintain our global leadership in nuclear energy.
It's common sense.
Sustaining our position requires concerted efforts in innovation, research, and development to ensure that American nuclear capabilities remain at the forefront.
By investing in advanced technologies and fostering a supportive environment for the nuclear industry, we can safeguard our leadership and continue to shape the future of clean and efficient energy production.
Let's unite and work towards securing a future where American leadership in nuclear power remains unchallenged.
Historic and forecast annual nuclear generation in selected countries (GWh)
Source: GlobalData
We have new designs for reactors that are safer and more efficient, and we are going to build them.
David Schlissel, the Institute for Energy Economics and Financial Analysis (IEEFA)
Closing down nuclear power plants may lead to a rise in air pollution levels
Some Democrats want to shut down nuclear.
Shutting down the nuclear power plants could make air pollution go up. When the plants close, we have to find other ways to generate electricity — like fossil fuels.
These release harmful pollutants into the air when they burn. More pollution means poorer air quality. It can harm our health and the environment.
So, closing nuclear power plants might not be the best idea if we aim to keep our air clean and safe.
Nuclear power plants produce electricity without emitting greenhouse gasses, which are the main cause of climate change. Amid the growing concern for the environment, reducing our carbon footprint is crucial.
Nuclear energy should continue to be the future of America.
92
Commercial reactors producing nuclear energy in the US
67%
States that have plans to incorporate nuclear in to their energy policies
Is nuclear waste dangerous for America's future?
Nuclear power plants have some risks associated with them, but American engineers have already developed advancements in technology and strict safety measures to mitigate these concerns.
And we'll keep improving safety protocols rather than dismissing nuclear energy altogether.
A balanced approach that incorporates renewable energy development and nuclear safety improvements is crucial for a sustainable and greener future.
It's common sense.
America has become an

exceptional nation

not because of what we have taken but because of

what we have given.
WILL HURD, Republican presidential candidate
About Will
Will Hurd has spent the past 20 years on the front lines of the most pressing fights facing our nation, in the Middle East, Congress, and the highest levels of business and tech.
Will has spent his life fighting for our country, and he will take those decades of experience with him as he fights for all us.
Don't be a jerk, racist, misogynist or homophobe.
WILL HURD, Republican presidential candidate
The choice we face
In this election, we have a choice. We can continue down the path of divisive politics and short-term thinking, or we can choose a new direction.
We can choose a future that is grounded in common sense, that prioritizes the needs of the American people, and that builds on our strengths as a nation.
Together, we can make this vision a reality.
Together, we can create an America that thrives on innovation, that provides opportunities for all, and that leads the world not just in power, but in principle.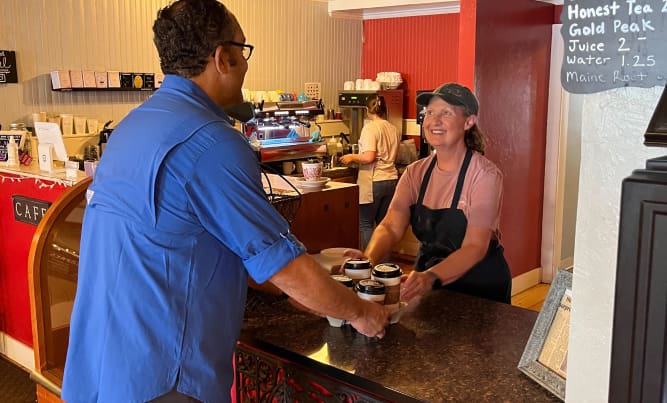 91%
Believe it's important to protect free speech
86%
Believe college education is important for success
79%
Support the development of alternative energy sources
86%
Believe it is essential to maintain Social Security
89%
Support background checks for all gun buyers
71%
Believe that LGBTQ+ individuals should have equal rights
82%
Say it is important for the country to do more regarding race inequality
72%
Are unhappy with the current US economy
70%
Believe the federal government doesn't share enough information
94%
Are concerned about pollution of drinking water
71%
Believe the nation's infrastructure is in need of major repairs
85%
Believe that access to affordable housing is a problem
Politico Magazine
The future of the GOP
Daily Dot
The most interesting man in Congress
Allegheny College
Prize for Civility in Public Life
Russia
Sanctioned by Vladimir Putin
Because in America, we're better together
Common Sense for Complicated Times
It's time to elect a President that isn't afraid of talking to people they don't agree with. Your generous contribution today will help me amplify that message to all voters. Not just the extremes.
CHOOSE $1 Or Multiple Amounts
Merchandise
T-shirts, hats, coffee mugs to support Will Hurd's campaign. Join us because we are better together
Shop Now
What's a modern republican look like?
We're a nation full of people with these values. If this describes you, you might be a modern Republican.
Respectful and Polite
Strong old school manners. You respect others, and say "please" and "thank you"
Fair
You give someone a fair shot
Empathic
You're ready to put yourself in the shoes of someone else.
Informed
No matter street smarts or book smarts, you understand an education is important
Family Values
You put your family above everything and do everything you can to succeed
Responsible
You take responsibility for your actions and believe in personal responsibility
Kind
You help others and you're always quick to smile
Persevering
You don't let a little hardship get in your way
Compassionate
You know that we're better together and you are ready to help
Policy
Will got more legislation signed into law in three terms than most congressmen do in their entire career. He worked across the aisle, and prioritized good policy over politics.